Mrs. Eve Montavon
Guidance Counselor
emontavon@setonschool.net
703-368-9555
Mrs. Charlotte Guyant
Guidance Assistant
Cguyant@setonschool.net
Mrs. Tina McIntyre
Registrar/Transcripts
tmcintyre@setonschool.net
703-368-3220
SETON SCHOOL CODE: 471350
Welcome!
The purpose of the guidance department at Seton is to help your children be successful and reach their potential. We want them to learn as much as they can from our dedicated teachers and excellent curriculum so that they can one day move on to their choice in higher education, the military, or careers. The preparation our students get at Seton is excellent. Our SAT scores, the performance of students on AP exams, on Latin exams, and in the various contests and the Science Fair all reflect the effort and commitment of faculty and the hard work of students and families. Please continue to keep up this effort and if problems develop, contact the teacher and guidance to get assistance.
While we do not have every facility or resource at our fingertips to offer comprehensive special education services, there are National Honor Society students as well as some teachers who tutor. Be aware that in order to get extended time for PSAT, AP, and SAT testing, the student must have been receiving that accommodation at Seton.
We would like to announce students who receive honors or awards, win contests, are involved in special programs, or are awarded scholarships. This is an opportunity to acknowledge students who deserve recognition for their accomplishments, and to provide encouragement to other students who can see that there are many reachable goals available to them. Please email any award information to guidance@setonschool.net.
Please contact Guidance with any questions. God bless you!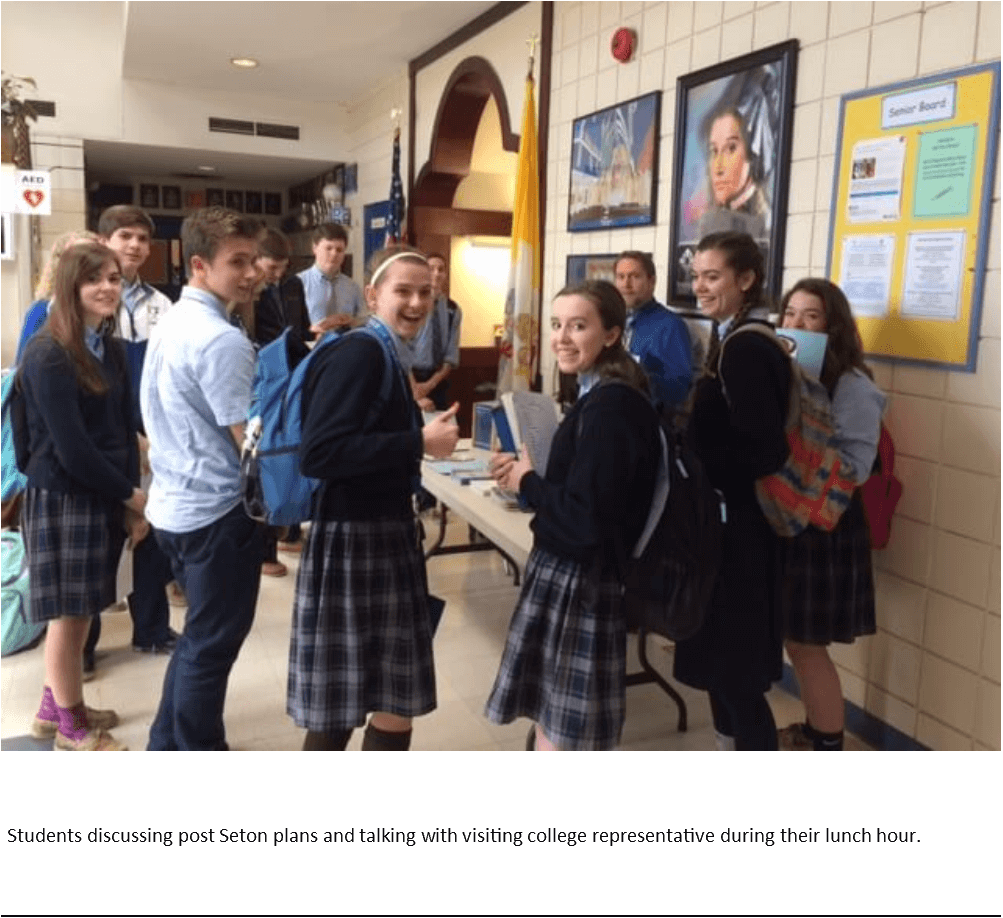 College Planning
This is an exciting time for the seniors as they prepare to leave Seton and take the next step in their lives.  Each Senior will meet with a Guidance Counselor in September to discuss their college plans. The meeting will discuss the college process and answer any questions about college admissions, applications, test scores, and any other questions they may have. Students will have a chance to go over their transcripts and ensure all classes taken are listed even classes taken outside of Seton.
Common Application
Many colleges use the Common Application.  The Common Application simplifies the application process by enabling students to upload application information once and then the Common Application submits this information to all the colleges selected by the student. Only those colleges that participate in the Common Application apply. Students should put Mrs.Tina McIntyre as their counselor and the email address: tmcintyre@setonschool.net. Once the student invites Mrs. McIntyre through the Common Application, she will receive an email with the request to upload the transcript and other important information.
SENDedu
Some schools require students to fill out a SENDedu. This works similar to the Common Application.
Senior Profile
Each year, each senior creates a "senior profile" to facilitate the college application process. These profiles, or high school resumes, are then used as a source for teachers, counselors, coaches, etc. to write a strong and informed letter of recommendation. The profiles can also be sent along with college applications as another information source. Senior profiles are due at the beginning of the student's senior year. Profiles may be submitted electronically to seniorprofile@setonschool.net.
Sample Senior Profile
Transcript Request Form
If students are applying for a school that does not use either the Common Application or the SENDedu, then students should follow the preferred method of application as directed by the school's admission's office. Whether this be via online application or paper, students should ensure Mrs. McIntyre knows where to send the transcript by filling out a transcript request form.
Important Links for College Planning
Understanding your PSAT Scores
Free Application for Federal Student Aid (FAFSA®)
Myths About Financial Aid
 Don't fall for these myths about federal student aid and the application process!
"My parents make too much money, so I won't qualify for aid."
Reality: There is no income cut-off to qualify for federal student aid. Many factors besides income—from the size of your family to the age of your older parent—are taken into account. Your eligibility is determined by a mathematical formula, not by your parents' income alone. And remember: when you fill out the Free Application for Federal Student Aid (FAFSA®), you're also automatically applying for funds from your state, and possibly from your school as well. In fact, some schools won't even consider you for any of their scholarships (including academic scholarships) until you've submitted a FAFSA. Don't make assumptions about what you'll get—fill out the application and find out.
"Only students with good grades get financial aid."
Reality: While a high grade point average will help a student get into a good school and may help with academic scholarships, most of the federal student aid programs do not take a student's grades into consideration. Provided a student maintains satisfactory academic progress in his or her program of study, federal student aid will help a student with an average academic record complete his or her education.
"My ethnicity or age makes me ineligible for federal student aid."
Reality: There are basic eligibility requirements (which you can find at StudentAid.gov/eligibility), but ethnicity and age are not considered.
"I support myself, so I don't have to include parent info on the FAFSA®."
Reality: This is not necessarily true. Even if you support yourself and file taxes on your own, you may still be considered a dependent student for federal student aid purposes. If you are independent, you won't need to include your parents' information on your FAFSA. But if you are dependent, you must provide your parents' information. The FAFSA asks a series of questions to determine your dependency status. You can preview the questions at StudentAid.gov/dependency.
So what's next?
Go to fafsa.gov, fill out the application, and see what you get! For more information about federal student aid, see StudentAid.gov. For help with the FAFSA process, use the help screens or live chat functionality on fafsa.gov, or contact the Federal Student Aid Information Center at 1-800-4-FED-AID (1-800-433-3243); TTY: 1-800-730-8913; for inquirers without access to the toll-free number: 334-523-2691; e-mail: studentaid@ed.gov
What You Need to Know About the 2017–18 FAFSA®
What's changing for 2017–18?
Starting with the 2017–18 Free Application for Federal Student Aid (FAFSA®), these changes will be in effect:
• You'll be able to submit your FAFSA® earlier.  You can file your 2017–18 FAFSA as early as Oct. 1, 2016, rather than beginning on Jan. 1, 2017. The earlier submission date will be a permanent change, enabling you to complete and submit a FAFSA as early as October 1 every year.
• You'll use earlier income and tax information. Beginning with the 2017–18 FAFSA, students will be required to report income and tax information from an earlier tax year. For example, on the 2017–18 FAFSA, you—and your parent(s), as appropriate—will report your 2015 income and tax information, rather than your 2016 income and tax information.
How will the changes benefit me?
We expect that you'll benefit in these ways:
• Because the FAFSA will ask for older income and tax information, you will already have done your taxes by the time you fill out your FAFSA, and you won't need to estimate your tax information and then go back into the FAFSA later to update it.
• Because you'll already have done your taxes by the time you fill out your FAFSA, you may be able to use the IRS Data Retrieval Tool (IRS DRT) to automatically import your tax information into your FAFSA. (Learn about the IRS DRT at StudentAid.gov/irsdrt.)
• Because the FAFSA is available earlier, you may feel less pressure due to having more time to explore and understand your financial aid options and apply for aid before your state's and school's deadlines.
Will FAFSA deadlines be earlier since the application is launching earlier?
We expect that most state and school deadlines will remain approximately the same as in 2016–17. However, several states that offer first come, first served financial aid will change their deadlines from "as soon as possible after January 1" to "as soon as possible after October 1." So, as always, it's important that you check your state and school deadlines so that you don't miss out on any aid. State deadlines are on fafsa.gov; school deadlines are on schools' websites.
Since the 2017–18 FAFSA asks for the same tax and income information as the 2016–17 FAFSA, will my 2016–17 FAFSA information automatically be carried over into my 2017–18 renewal FAFSA?
No; too much could have changed since you filed your last FAFSA, and there's no way to predict what might be different, so you'll need to enter the information again. However, keep in mind that many people are eligible to use the IRS Data Retrieval Tool to automatically import their tax information into the FAFSA, making the process of reporting tax information quick and easy.
Can I choose to report 2016 information if my family's financial situation has changed since our 2015 taxes were filed?
You must report the information the FAFSA asks for. If your family's income has changed substantially since the 2015 tax year, talk to the financial aid office at your school about the family's situation. Note: The FAFSA asks for marital status as of the day you fill it out. So if you're married now but weren't in 2015 (and therefore didn't file taxes as married), you'll need to add your spouse's income to your FAFSA. Similarly, if you filed your 2015 taxes as married but you're no longer married when you fill out the FAFSA, you'll need to subtract your spouse's income.
Will I receive aid offers earlier if I apply earlier?
Not necessarily; some schools will make offers earlier while others won't. If you're thinking of transferring to another school, you might want to look at the College Scorecard at collegescorecard.ed.gov to compare costs at different schools while you wait for your aid offers to arrive. Note: You should be aware that the maximum Federal Pell Grant for 2017–18 won't be known until early 2017, so keep in mind that even if you do receive an aid offer early, it could change due to various factors.
How will I know what schools to list on the FAFSA if I haven't decided which schools I'll be applying to?
List any schools you're considering applying to, and we'll send your FAFSA information to them. Later, if you decide to apply to additional schools that you didn't list on the FAFSA, you can log back in at fafsa.gov and add those schools.
Where can I get more information about—and help with—the FAFSA?
Visit StudentAid.gov/fafsa; and remember, as you fill out your FAFSA at fafsa.gov, you can refer to help text for every question and (during certain times of day) chat online with a customer service representative.
Advanced Placement (AP) FAQs and Registration Forms
AP Q & A
What is the AP Program?
The Advanced Placement Program is designed by the College Board to provide motivated and academically prepared high school students with the opportunity to study and learn at the college level. The two components of the program are AP Courses and AP Exams. There are over 35 courses/exams offered in a wide variety of subjects.  Most colleges and universities will grant college credit and/or advanced placement for successful AP exam scores.
Does Seton School participate in the AP Program?
Yes, each May Seton School offers AP Exams to interested students. Due to many constraints however, Seton School does not offer AP Courses.
What are the benefits of taking AP Exams?
AP Exams are scored on a 5 point scale. A score of 3 or higher corresponds to a passing grade in a comparable college course. Most colleges and universities in the U.S. grant college credit, advanced placement, or both on the basis of AP Exam scores. (Please consult individual colleges for their policies.)
Earning college credit or advanced placement can allow students more flexibility to double major, study abroad, or graduate early. Participating in the AP Program can also help students to stand out in the college admissions process.
Who should consider taking AP Exams?
High school students who are doing well in various subjects and are willing to do some independent study should consider preparing for the corresponding AP Exam(s). Students should take AP subject exams in May of the same year in which they take the corresponding class at Seton.
Which exams are offered to our Seton Students?
The following is a list of AP exams typically offered at Seton, along with the corresponding Seton course. If a student is interested in taking an AP exam not listed below (such as a foreign language) Seton is willing to offer the exam if it is possible. The student should consult with his classroom teacher and the AP Coordinator as soon as possible.
AP English Language and Composition—junior and senior level English classes
AP English Literature and Composition—English 12, Advanced Literature
AP European History —World History II or World History III
AP U.S. History—American History
AP Microeconomics—Economics
AP U.S. Government and Politics—American Government
AP Calculus AB—Calculus
Do colleges and universities accept all AP exams for course credit?
No.  Colleges and Universities differ in which AP exams they accept for course credit.  Information on which AP exams are accepted and the corresponding scores necessary for course credit and advanced standing is often posted online on a college's admissions page.
How should I prepare for AP Exams?
First, consult with your classroom teacher for guidance and advice. Then obtain an AP preparation book from the bookstore or the library and begin studying it as you progress through your coursework at Seton. Try to find other students interested in taking the exam and form a study group to keep you focused during the school year.
How do Seton students typically perform on the AP exams?
About 67% of all exams taken at Seton School in recent years earn a score of 3 or higher. Additionally, nearly every year Seton students have achieved AP Scholar Awards. This achievement is acknowledged on any score report sent to colleges the following fall.
What are the various AP Scholar awards?
AP Scholar-­‐ a score of 3 or higher on 3 or more AP Exams
AP Scholar with Honors-­‐ an average score of 3.25 on all exams taken and a grade of 3 or higher on 4 or more exams.
AP Scholar with Distinction-­‐ an average score of 3.5 on all exams taken and grades of 3 or higher on 5 or more exams.
National AP Scholar-­‐ an average grade of 4 on all exams taken and grades of 4 or more on 8 or more exams.
Where can I learn more about the AP Program?
A 2018-2019 Bulletin for AP Students and Parents will be sent home to interested students in January.  The main office and the guidance office will have copies of this and extra registration forms.  You may also download the registration information from the Seton online guidance page.  For any additional information, log onto www.collegeboard.com/student and click on "AP" under College Board Tests.
How do I order AP Exams and what is the cost?
Seton School must place exam orders in March, and the fee is $94 per exam. The registration deadline is March 8, 2019.  Further instructions are on the registration form.
If you have further questions, please contact Mrs. Reyes (smreyes595@gmail.com, 703-331-3587)