Seton's 2nd Annual "Honoring Our Heroes" Assembly
U.S. Army photos by Sgt. Josue Patricio
On February 15, 2023 Seton School held our 2nd Annual "Honoring Our Heroes" Assembly honoring Medal of Honor Recipient Walter J Marm. Soldiers assigned to the 3d U.S. Infantry Regiment (The Old Guard) provided ceremonial support. Having been awarded the Medal of Honor for his heroic action in the Battle of Ai Drang, Vietnam, COL Walter J Marm shared with the Seton students, faculty and families his inspiring story of how his Catholic faith saw him through his life's most harrowing moments. For more about COL Marm's inspiring story, click on the image or click here.
A SPECTACULAR ASSEMBLY:  We had a great assembly on Wednesday as the Old Guard of the U.S. Army Fife and Drum Corps and Silent Drill Team performed for our students, staff and many families who attended.  We also heard a talk by Col. Walter J. Marm, grandfather of Gabriel and Eli, who told of his experience at the Battle of Ia Drang in the Vietnam War, for which he received the Congressional Medal of Honor. We were in the presence of a true hero.  The students were thrilled to watch the precision of the Drill Team and enjoyed the opportunity to speak with the members afterwards.  Mrs. Hartung, PRO President, told me that in the entire 250-year history of the Old Guard, they had never before performed in a high school.  Seton is honored to be the first.  Thank you, gentlemen and ladies, for your presence at our school, and thank you for your service.  We are all grateful to Mrs. Irving and Mrs. Marm, who arranged this presentation.
T H E   U S   A R M Y   O L D   G U A R D
T H E   U S   A R M Y   S I L E N T   D R I L L   T E A M
T H E   U S   A R M Y   F I F E  &   D R U M   C O R P S
The 3d U.S. Infantry, traditionally known as "The Old Guard," is the oldest active-duty infantry unit in the Army, serving our nation since 1784. Our Nation's Old Guard is the esteemed unit who lays to rest our servicemen/women in Arlington National Cemetery via horse drawn carriage. For more information, click here.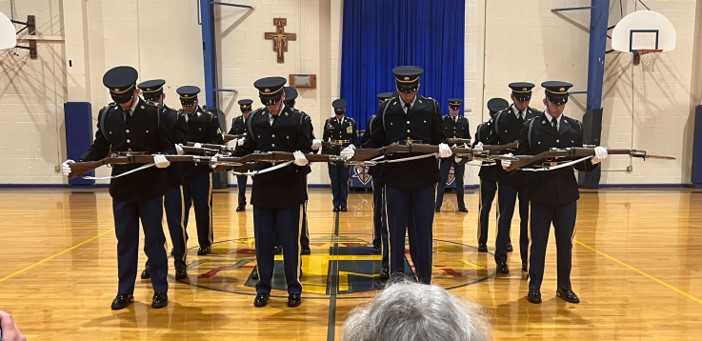 The assembly gave students an opportunity to interact with the Soldiers (scroll through to see pictures). U.S. Army photographer Sgt. Josue Patricio provided many of the pictures.